Melanie Vega was asleep when she got the call. She was awoken at 2:47 a.m. by her older brother Jonah Spahn on Oct. 7.
"I need you to wake up," he told Vega. "Matthew was run over by a car."
That's when the calls started flooding in.
"I was freaking out, I didn't know what to do," Vega said.
She went straight to join her family at Baylor Scott & White in Temple, where her brother, 21-year-old Matthew Spahn, was in critical condition with serious injuries — two broken legs, a fractured knee, multiple facial fractures and breaks, tremendous blood loss, head trauma and swelling in his brain.
However, 11 days after that fateful night, Matthew crossed life's final finish line at 11:10 a.m. on Wednesday.
Vega suspects that Matthew may have been out for a run the night he was struck by a vehicle on the 2600 block of Gun and Rod Road.
Small in stature, but with a big heart and tenacious spirit, Spahn was fighter, according to those who knew him.
"From the day he came into this world, he has been defying all laws and critics with this tremendous no quit attitude. He has proven to the world time and time again that it is not the size of the dog that matters, but the size of his heart. He has always been short and small in stature, but that has never stopped him from proving all of the doubters wrong," said Matthew's father Jordan Spahn, who spent day and night at the hospital, rarely leaving his son's side.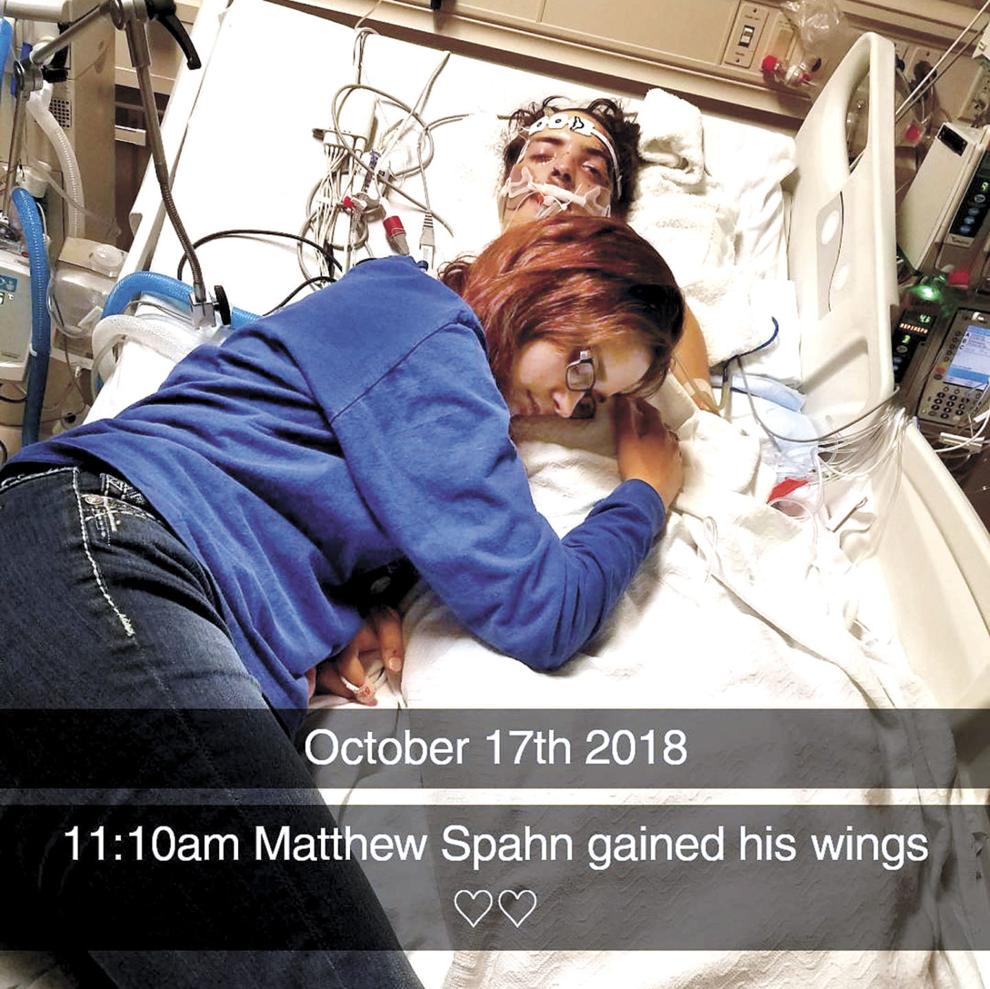 Following Matthew's death Wednesday, Vega shared a simple Snapchat post — a heartbreaking scene documented with the words, "October 17, 2018: 11:10 a.m. Matthew Spahn gained his wings," followed by two simple hearts.
The family had been optimistic about Matthew's progress, however slow the pace, no matter how small the improvement. It was fitting for the tenacious long-distance champion runner.
Childhood friends, estranged family members, teachers, community members, and more have come to show their support, cheering him on from the sidelines of his hospital bed.
Matthew's former cross country coach at Brenham High School, Trenton Hall, has been trying to stay updated, visiting the hospital to pray with his former athlete's father.
"Knowing that he's in God's hands is comforting," Hall told The Banner-Press. "I'm staying in touch daily. We said a lot of prayers while we were together and all the people that I've heard from are praying. It's been overwhelming just hearing from our local community, people in the church, former teammates, former teachers, and the greater running community in Texas. There's been a huge outpour of support. Matthew's had a big impact."
Vega has made the drive to Temple every single day.
When his sister was 14 and had her appendix removed, Matthew laid in bed with her eating Jack in the Box tacos, despite the fact Vega wasn't allowed to eat anything.
"I told him he needed to wake up so I could pay him back and get tacos to eat in bed," she said.
She often spoke to her younger brother at his bedside, saying, "I'm going to be here whenever you wake up. You haven't even had kids yet. You've got to come back from this. I need a nephew, I need anything — you have to give us a lot more than just memories."
It was an uphill battle the Spahn family was ready to fight. Though they couldn't have known what lay ahead until doctors performed a test to detect activity in Matthew's cerebral cortex.
"Whenever his head hit the windshield and pavement, his brain was essentially ripped apart. The CT couldn't pick that up, but the ultrasound showed that damage," Vega said.
Then his pupils became extremely dilated — a fateful sign that there was no longer activity in Matthew's brain at all.
Doctors performed a test which highlights neurons and tracks their path to the brain.
"Your brain is supposed to light up like a giant Christmas party," Vega explained. "But there was only one little trickle."
Due to this single glimmer, doctors performed the same test the following day in order to pronounce him legally brain dead. As an organ donor, the designation is required before the transplant process of harvesting Matthew's organs could begin.
Before his death was official, however, Vega began to sense she was going to lose her younger brother, best friend and confidant with whom she was inseparable after everything they'd shared — from their turbulent childhood to the playful, inside jokes, from the late night phone calls to sharing movie quotes.
"I had dreams every night while he was in the hospital. In my last dream, Matthew told me he couldn't feel his body. When they told us he was paralyzed, all those dreams stopped," she said. "I think that dream was his way of saying goodbye. So the next day, I went and said my own goodbye because in my heart, I knew he wasn't with us.
"We got 11 more days. We're at least thankful for that."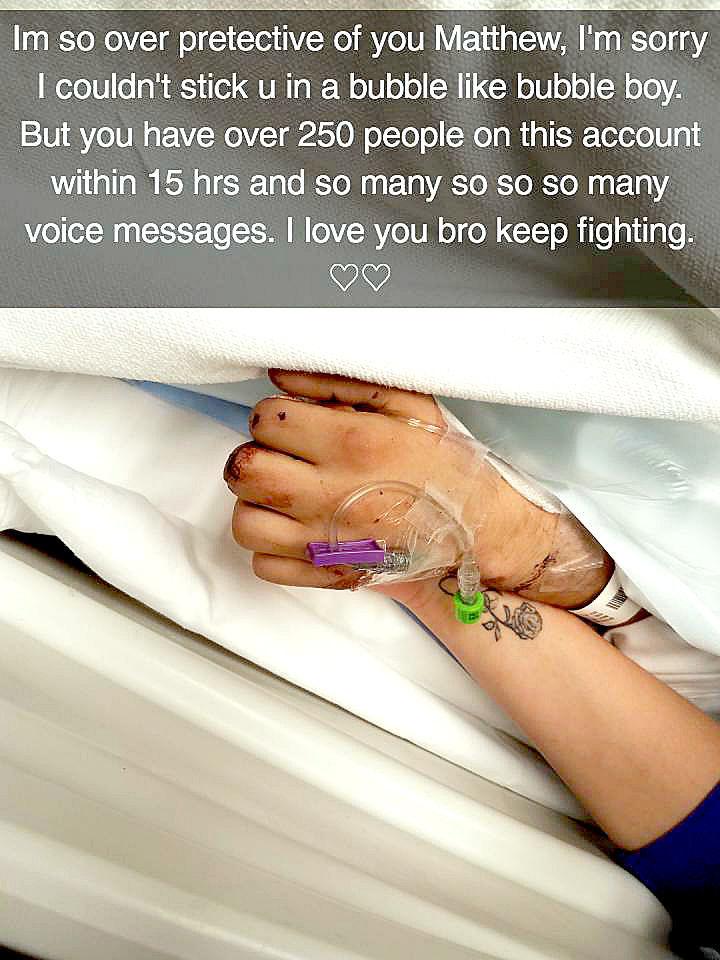 Vega has helped to document every step from that fateful phone call to his last breath, keeping the community updated using social media such as Snapchat and Facebook.
These posts showed the intimate moments between a family and community brought together by this tragedy. There are countless videos and photos — of Vega next to Matthew's side, the monitor that showed he was finally breathing on his own and simple eye movement — all caught on camera to show supporters.
The Snapchat account alone totals 350 followers and counting.
The family and those closest to Matthew have felt tremendous support — not only from those who called him a friend, competitor, student and more, but from a much wider community who never knew him.
Both local and national businesses, as well as individuals contributors, have made donations to the family's GoFundMe account.
T-shirts and other items such as car decals will be sold to support the family, in addition to several events such as the Run for Matthew on Sunday, Oct. 28 from 4-7 p.m. at Brenham High School. The cost to participate in the 5K run/walk is $25 per participant.
All donations from the fundraiser as well as the GoFundMe page will help support the family in paying for medical bills and other expenses, as well as additional ways to honor Matthew, such as an engraved bench and keepsake necklaces for the family containing his cremated remains.
"Just seeing all the love and support makes me think people are really a lot better than what we think they normally are," Vega said. "It's a testament to our small town and how a tragedy can really bring people together."
For Vega and the Spahn family, as well as anyone who ever knew or loved Matthew, they want the public to know that he was more than just a pedestrian.
"We want to put a face to the man whose name means something," she said.
"He was this big ball of joy even though you know we've had a terrible life. We went through a lot of things that we should not have at certain ages, but he's just always had this beautiful, bright view on life.
"Nothing will ever be the same, but it's brought my brothers and me even closer together than we were before this happened. Now we say 'I love you' every time we talk because you never know."
Soon, the family will learn general facts about the patients who will receive Matthew's heart and other organs.
Thus, Matthew lives on — not just the physical parts of his body that will save the lives of strangers, but the love and the memories that are etched in the hearts of everyone he touched in his 21-year race.
"He lives on in one way or another," Vega said. "We've overcome a lot of obstacles and we just know that we're going to overcome this one, too. It's a big one, but we have each other and we've always had each other and, you know, we've always said that's all we need."
A memorial service for the community is tentatively planned for next week in order to celebrate Matthew's life, bringing people together amid a tragedy. A private ceremony will be held for the family.
To donate to the GoFundMe "Help for My Brother Matthew" account, visit www.gofundme.com/68bq23c.