Perched on his dad's leg, a bundle of blue eyes and giggles, Beckett Spencer seems fine.
"Perfect," say experienced nurses and doctors from Houston when they first see him.
But behind those big blue eyes, a battle is occurring.
A terminal illness attacks from within his brain — one that experts say will take him from this world by the time he's only three years old.
For parents of such a child, moments arrive that can best be categorized as reality checks.
It's always in the back of your mind, but the horrible diagnosis can escape your most immediate thoughts on occasion.
Katie and Tyler Spencer, the doting mom and dad of Beckett, say their reality checks come at unexpected times.
The most recent reminder surfaced during an event honoring local high school graduates.
"I thought to myself, 'Man, our son probably won't ever get to experience that,'" Katie said. "As a family, we won't get to experience that with him."
That's because doctors and genetic experts diagnosed Beckett with a rare disorder called Leigh syndrome.
Leigh syndrome is a severe neurological disorder that usually becomes apparent in the first year of life. It's characterized by brain lesions that cause progressive loss of mental and movement abilities and typically results in death within two to three years, usually due to respiratory failure.
There is currently no known cure.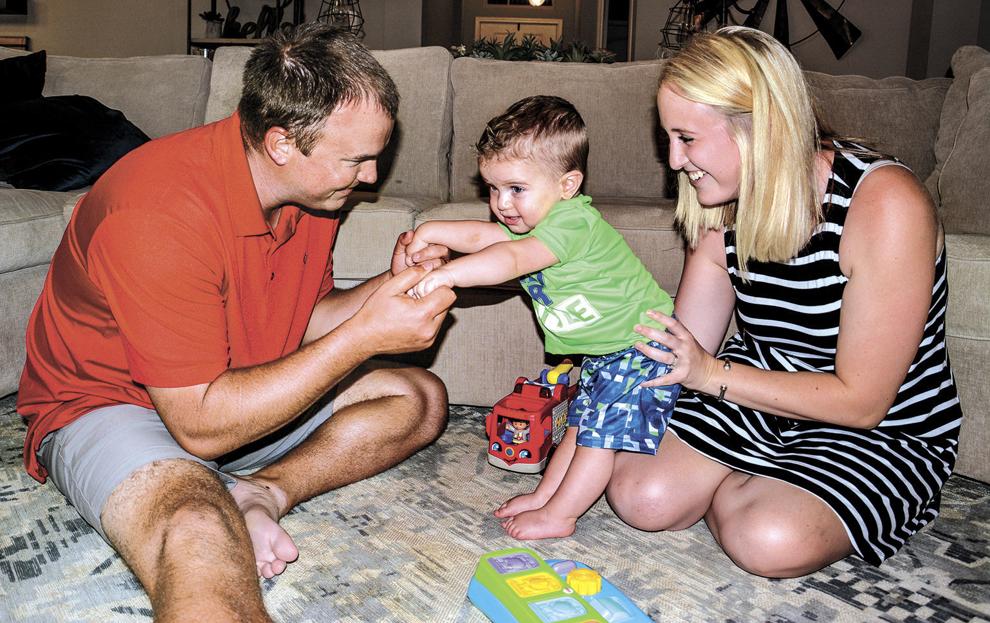 All-American family
Katie and Tyler are the picture-perfect couple next door. And the couple is completed by Beckett — one of the most angelic 1-year-olds you'll ever see.
Graduates of Texas Tech, they moved to Brenham in August 2017 for Tyler's ranch manager job.
Their story of Beckett's arrival, and his first few months of life, was much like any healthy child's.
The couple proudly welcomed home their 7-pound, 8-ounce, smiling, kissable kiddo.
"His APGAR scores (a tool used to assess newborns) were very high; very healthy child," Katie said.
The family moved here when Beckett was one month old, and he continued to hit all his early development goals.
Things couldn't have been better for the Spencers.
Then at about seven months, the parents noticed he wasn't crawling yet, as well as some other minor signs of motor skills not being developed.
"I was like 'who cares?'" Tyler said. "Everything else seemed fine with him. We were just happy that he seemed healthy. Everything else would come when he was ready, we thought."
At Beckett's 9-month wellness visit to the pediatrician, Katie was checking off the items on the perfunctory list of milestones.
"I noticed I was checking 'no' on a lot of things," she said.
It was soon determined that Beckett was about four months delayed on his motor skills. He would need to see a neurologist, but landing an appointment in Houston was difficult.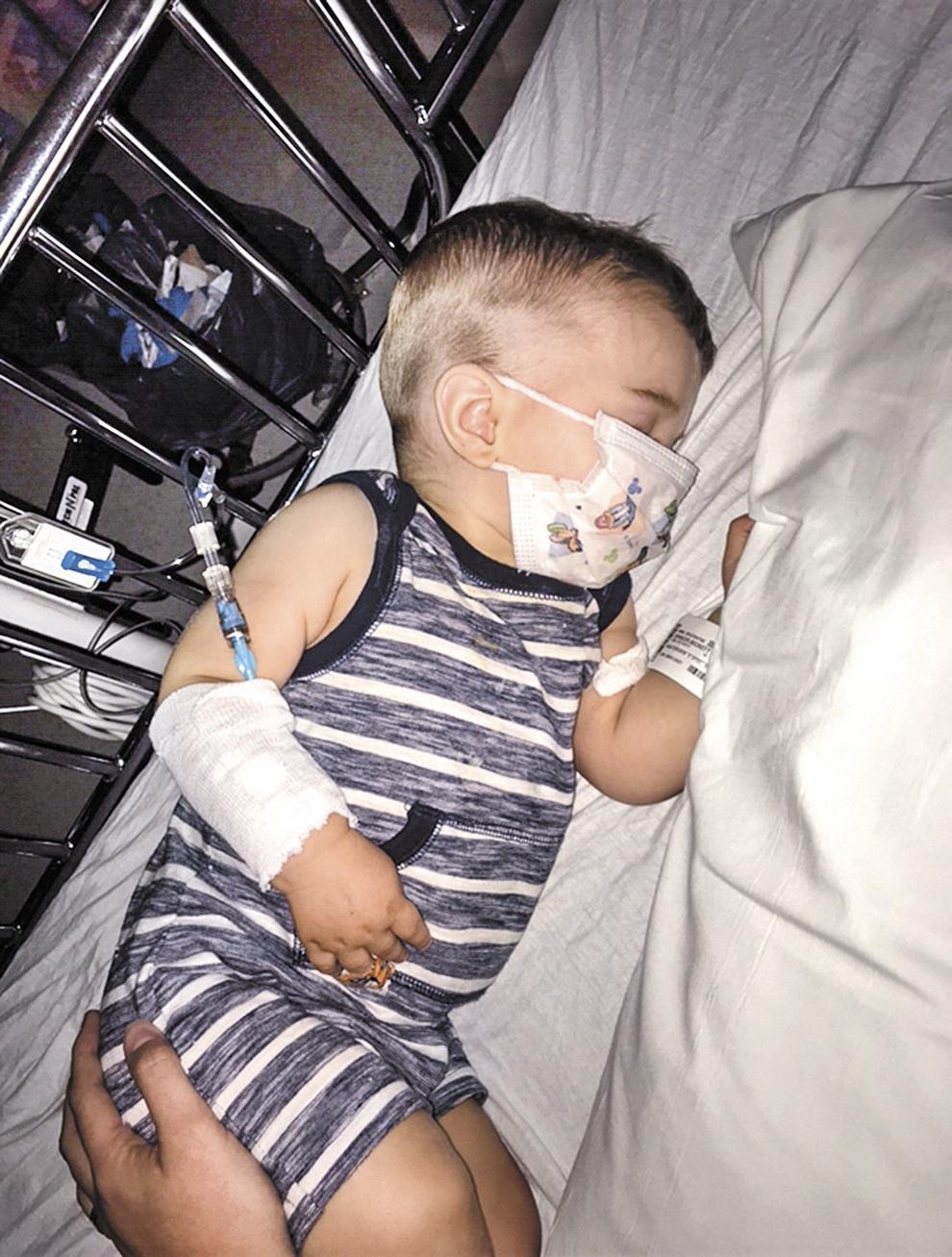 Warning signs
In April, Beckett caught a stomach virus and couldn't seem to shake it. He became violently ill.
Beckett was in and out of the ER — about eight visits altogether — his pulse oxygen levels kept fluctuating, and parental intuition told the Spencers that something wasn't right.
"We were very worried, but still thought it was the type of thing that could be fixed," Tyler said.
In late May, after calling daily for appointments, they were finally able to get Beckett in to see a specialist. The night before heading to Houston, they watched iPhone videos of their son and noticed his motor skill development was seriously heading in the wrong direction.
"He wasn't able to sit up like he used to. We saw the regression, and it was worse than we first thought," Katie said.
But at the hospital, even doctors and nurses at first glance believed that a healthy baby was in front of them.
"They were like 'why are you here?'" Tyler recalled. "When you first just look at him, he looks perfect."
When doctors heard about the regression, a bevy of tests were run.
Eventually, pediatric specialists and one of the top genetic disorder doctors in the country arrived at the diagnosis: incurable Leighs syndrome.
Lesions had begun to form on the basal ganglia in Beckett's brain. The stomach virus had triggered it.
After learning of the terminal diagnosis, the couple was crushed.
"We just bawled. All of us," Tyler said, shaking his head.
The disease is genetic, appearing on certain mitochondria. He was born with it. Through blood tests, they learned that both parents were carriers.
Looking ahead
Beckett gets tired easily and has switched to a ketogenic diet as too many carbs and sugars cause his energy to drain even more. The family takes several precautions to avoid him getting sick, as any communicable virus or illness causes the disease to progress faster.
There's also the issue of how medical treatments and doctors' visits take a financial toll.
"One of the medicines Beckett has to take, the insurance company identifies it as a food, not a medicine, so they won't cover it," Tyler said. "It's $1,000 a month."
There are myriad other expenses as well.
A GoFundMe page has been set up to help with the medical burden. T-shirt sales featuring the hashtag #BeckettStrong have also been organized.
The couple will soon sell their home in Ralston Creek and relocate to the ranch where Tyler works.
"There are animals out there for Beckett to see. We can go fishing maybe. We've made a bucket list of things we want him to experience," he said.
Even with the diagnosis, the parents remain positive and clutch daily to silver linings.
A storm has arrived in their lives, but the message is clear and simple for the Spencers.
"Hug your children extra tight. Everyday. Hold them close to you," Katie said, looking across the room at her son. Their eyes lock. "Life is fragile."