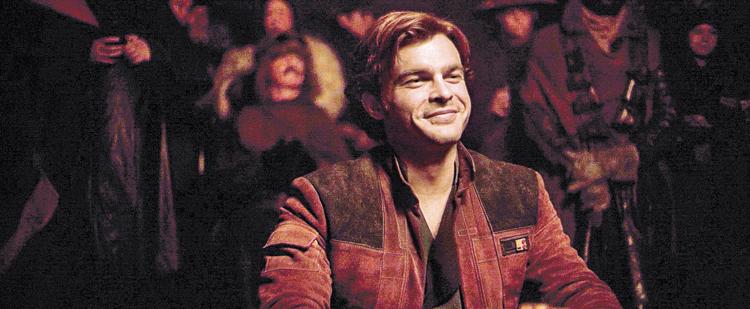 There is an old expression that still resonates in Hollywood: There's no such thing as bad publicity.
"Solo: A Star Wars Story" will put that expression to the test this weekend. No film in recent memory has been plagued with more problems and lived to tell its tale. Of course, it's a Star Wars film, so scrapping the production altogether wasn't an option.
Add to the mix that this installment in the franchise has probably been anticipated by more fans than any other and there was no way Walt Disney was going to miss the release date. After all, this is the movie that finally reveals the origins of the most beloved character in the Star Wars universe and how he teamed up with his trusty wookie sidekick Chewbacca.
It will also show viewers the meeting of old friends who became enemies and then became friends again. Not surprisingly, Han and Lando Calrissian first exchange witty barbs over the Star Wars version of a poker table.
Fans with a depth of knowledge might add another layer of anticipation knowing that the man who wrote the first words on screen between Han and Lando is back to write their first exchange as young pirates.
Lawrence Kasdan co-wrote "Empire Strikes Back" and "Return of the Jedi," along with "Raiders of the Lost Ark" for George Lucas and Steven Spielberg, before striking out on his own as a director. More than 30 years later, he returned to the Star Wars universe to write "The Force Awakens" and now "Solo."
But while the old vet Kasdan brought continuity and stability to the project, the original directors Phil Lord and Chris Miller apparently did not. Reports suggest that they were in over their heads with the massive production. Three quarters of the way through the shoot, they were fired by Lucas Films president of production Kathleen Kennedy.
And then the editor was fired. And then an acting coach was hired because Alden Ehrenreich, who plays Han Solo, was struggling to mimic the swashbuckling style of Harrison Ford in the original trilogy.
Enter another veteran filmmaker: Ron Howard. Howard was hired to save the supposedly sinking ship. He took over as the director and rapidly re-shot numerous sequences. He guided the film through a warp-speed post production schedule so Disney would not have to give up its coveted Memorial Day weekend debut.
Stories from the set suggest the acting coach paid off, as well. Ehrenreich found his swagger. With the writing of Kasdan and the direction of Howard, the young actor fully embodied his predecessor.
There were more obstacles than usual for this Star Wars installment, but it also means there was more free publicity than usual. Rumors of strife on set have built into legends, which will likely drive the box office receipts higher than expected.
A film that was already highly anticipated is now the most talked-about movie of the summer.