I had an early introduction to unique, one-of-a-kind products. As a child, my father created a toy company that sold handcrafted dolls.
He traveled around the world bringing home suitcases full of treasures that dazzled.
I learned to distinguish objects with superficial pleasures from objects that had a greater resonance and spoke to the heart.
— September Scott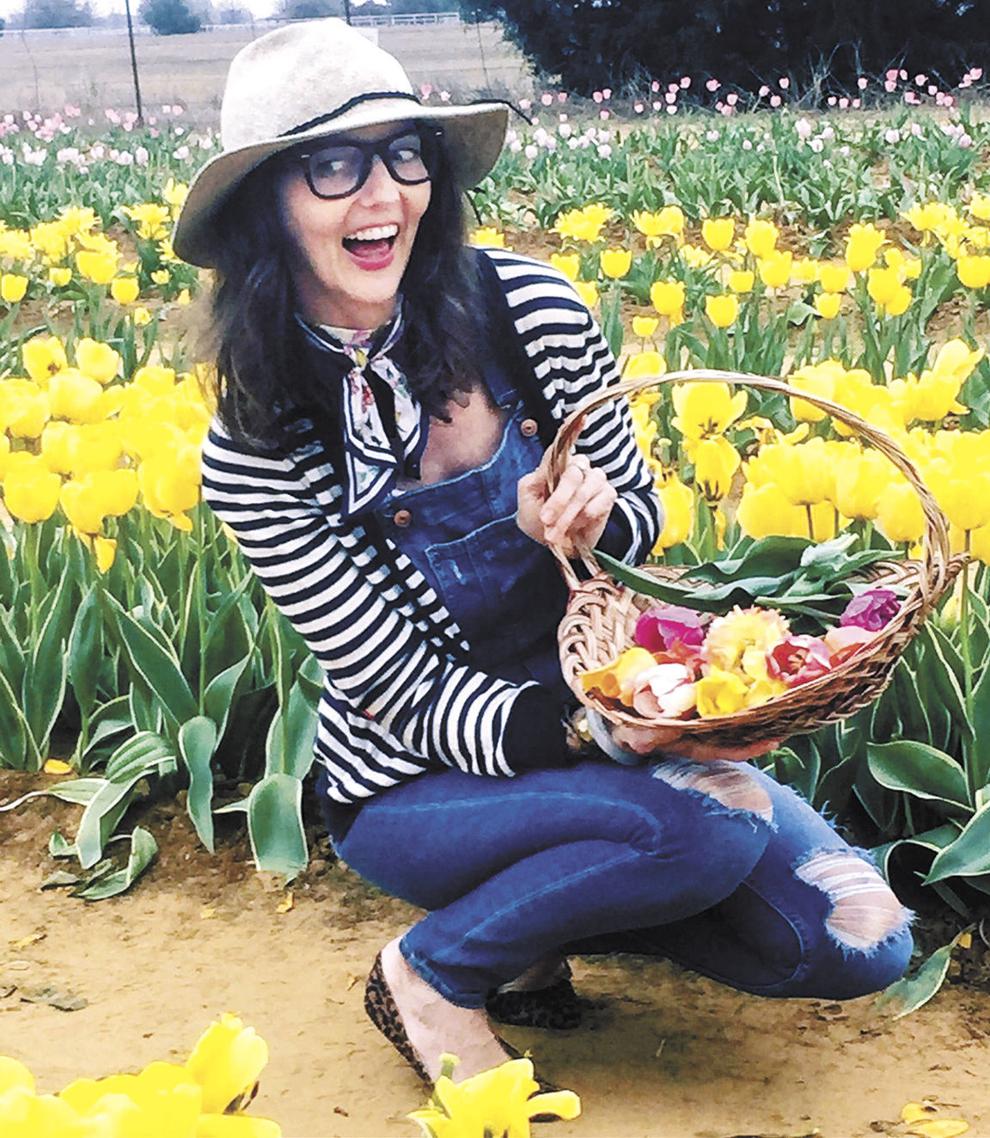 §§§
September Scott really did have a fairy tale childhood ... a home in the country where using your imagination was encouraged, a loving family that included a father who once sold an expensive clown doll to a little boy for a handful of coins he was clutching.
Scott, who grew up in Washington County and graduated from Brenham High School in 1995, recently unveiled her first children's book.
It's called "Sunshine Cake" and it draws inspiration from Scott's life and the things she loves.
"For the last couple of years, I've been playing around with the idea of creating a special children's book," said Scott. "I feel like the world we live in now ... everyone is kind of looking for things externally to make them happy instead of internally.
"When you feel good on the inside, you shine bright on the outside. I wanted to create something for children that lifted them up and let them know that it's the simple acts of kindness that bring the most joy."
It's evident that Scott believes that. Her book is filled with bright illustrations and positive messages about the joy of simply embracing all that life has to offer.
"The whole book is a day in a little girl's life," she said. "Her whole day is just a simple adventure ... she makes new friends, there's a magic pouch."
There's a lot of Scott in the book and snippets from her life. The dog in "Sunshine Cake" is modeled after her own beloved Pekinese and the little boy character "is actually my nephew," she said.
The main character is Sunshine Cake, named after "my two favorite things," said Scott.
"I love to bake and I love sunshine," she said.
Bing Crosby even wrote a song called "Sunshine Cake," featuring it in his 1950 film "Riding High."
Imagination
"We grew up in the country," said Scott, who now lives in Austin and is a caregiver for a special needs child. "I really feel like I got to use my imagination. We played outside every day. The most magical part of my childhood is that we could go run and play. And we didn't have cell phones and we weren't texting and we didn't have computers.
"We had a real childhood."
Her father, Ron Scott, formed a toy company that sprang from family ties.
"My great-uncle had 13 children. Two of them were seamstresses and they started sewing these dolls," said Scott. "He (her father) went to visit them in Alabama and he couldn't believe how beautiful they were."
He arranged to have them made in a factory in the Philippines and soon expanded the product line to include clowns.
"He sold them at different places, the malls," Scott said. "My dad had these little kiosks set up for the holidays, and I remember a little boy in Houston walked up to my dad with a pile of change. And he asked my dad if he had enough money for a clown.
"His mother was chasing him going 'No no no, you don't have any money.' But my dad said, 'You have just enough' and gave him the clown."
Scott said that moment and others in her life have shaped her.
"If you think about it, a lot of this stems from my dad," she said. "His love for children. He was so thoughtful and so giving. He was always giving the shirt off his back, and I got to really watch him, how he helped others, how he gave of himself.
"That has always stayed in my head. Clearly, he didn't have enough money to buy a $15 item. He had maybe a dollar's worth of change. But what a gift that was, that I got to witness that.
"It was pretty awesome."
Scott said her father would travel the world to toy shows.
"And he brought back the most incredible toys. The things he would find were so special," she said. "You never knew what he was going to bring home."
After graduating from Brenham High, Scott earned a degree in anthropology from St. Edward's University in Austin.
But she was drawn to the "toy world" after that, working in San Francisco for a Japanese toy company for six years. That also stoked her idea to someday write a book.
"That's kind of where this idea came from, because I would travel around the U.S. and read to children," said Scott. "We ended up creating four or five books that went along with our characters.
"I enjoyed it so much, I thought, 'Gosh, I want to do this.' I can picture myself writing a book and reading to children. I just saw how much joy it brought to children's lives, just to read to them, to be connected to them. So I knew I wanted to do that in some way."
And "Sunshine Cake" was born.
Her book is available on the Amazon website and at Barnes & Nobles book store. The response so far has been very positive.
"It's even resonated with my older friends," said Scott. "Even my male friends have found such pleasure reading the book.
"It has such a great, sweet message. It sticks to you."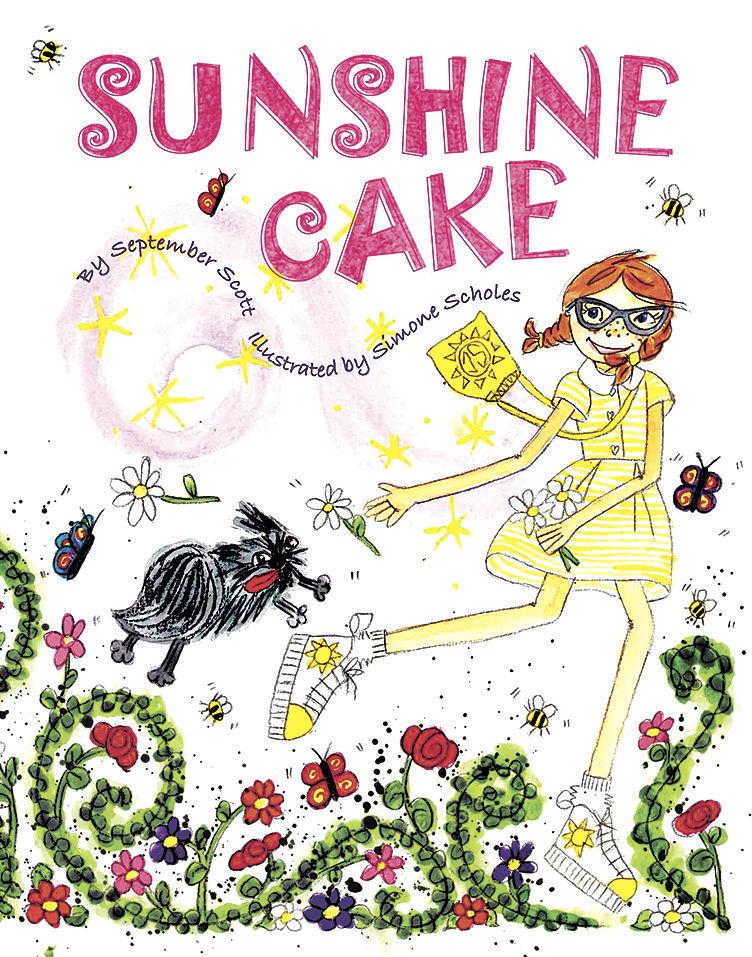 First book excitement
Scott compared seeing her first book in print to another of life's milestones.
"You're so vulnerable. For me, it's like giving birth to a child because I've put so much love into the book," she said. "It's like 'Ahhh, it's in the world now!'
"But so far, it's been a great response. It's a special message, so I'm just going to trust that it'll do well.
"People tell me that I look like the character, but the book is how I live my life right now ... writing handwritten letters, rescuing 15-year-old dogs.
"It's an easy story for me because that's how I live every day of my life. We live in a very selfish world now, where everyone's just taking. But let's share. There's a lot to go around."
Scott will hold a book signing Saturday from 10:30 a.m.-12:30 p.m. at Nancy Carol Roberts Memorial Library here.
"It's been a really, really fun project for me," she said. "It still doesn't feel real. My first event will be in Brenham, and it'll become more real for me then. Once I'm there and reading and selling my book, I think it's going to hit me — okay, this is really happening."
Scott said she still considers Brenham her "home home." She has traveled extensively, including 32 trips to Europe.
"I've reconnected with a lot of my childhood friends. They've moved back so they're all coming to this event," she said. "I told my mom at one point I'd love to get a little cottage or something in the country. And all my friends are saying, 'If you move back, that's amazing.'
"They think I need to be in a big city, but that's not true. When you get older, your values change on what's important."
To Scott, family is the most important thing.
"Sunshine Cake" is the first in what Scott hopes will be a series of she called "character-building books."
"The next is anti-bullying," she said. "It's been really fun. But it's been a labor of love, that's for sure."
And how did she get the name September?
"My mom (Sharon) was reading a book about a girl called January and she said, 'Okay, she's going to be born in September. I like that name,'" said Scott.
She has a sister named Summer and yes, she was born on the first day of summer.