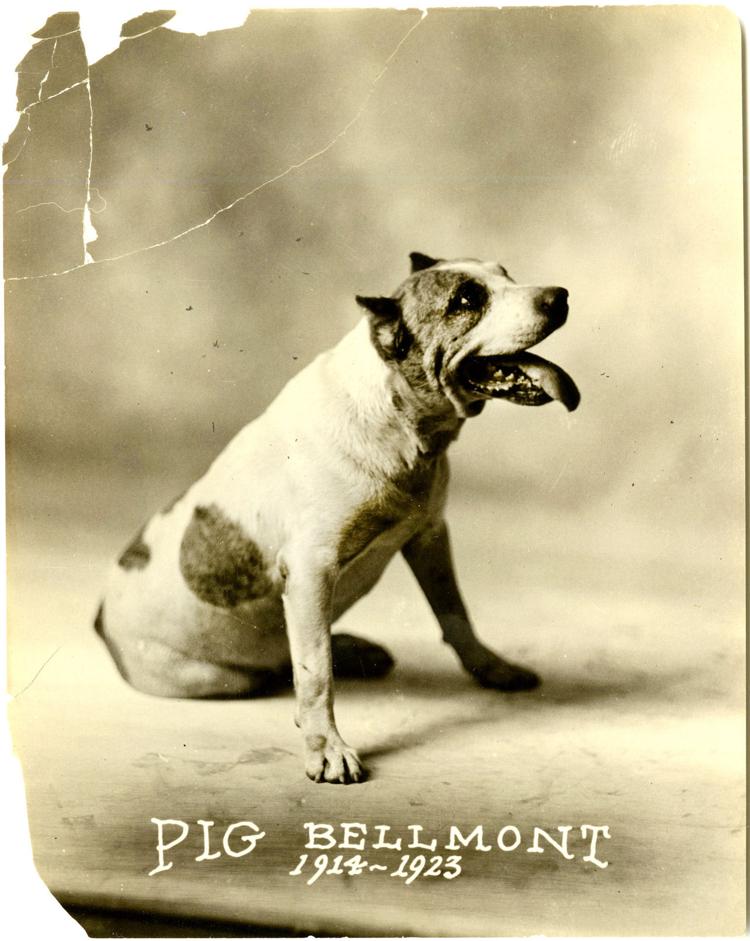 Pig was a dog.
But not just any dog. He was the first live mascot for the University of Texas, predating the introduction of Bevo by two years and was far more popular than the famed longhorn steer during his time on the Forty Acres.
Pig was a mutt.
But he was a beloved mutt. Like many UT football greats, he was a native of Houston. He was born Feb. 10, 1914 and at seven weeks old he moved to Austin with his owner, L. Theo Bellmont.
Bellmont was the first megalith in the history of Texas athletics. He was the school's first athletics director, assuming the role in 1913. He helped found the Southwest Conference in 1914-15; he organized the T Association for UT athletes; and he was a driving force behind the construction of Memorial Stadium* in 1924.
He was also one of the first four people named to the Longhorn Hall of Honor in 1957.
Oh — and he helped create an annual football game of minor importance.
This yearly contest would be held at the State Fair of Texas and feature two loving, friendly programs whose only desire was a to see a good, clean competition on the field.
But before any of those things happened, he had a dog. He brought his puppy to Austin and the dog was an instant hit on campus.
Pig, as the puppy would later be called, had no interest in remaining confined to Bellmont's backyard, so he followed Bellmont to work every day. After all, there were Forty Acres of people to play with and squirrels to chase and flowers to romp through and trees to nap under.
He checked in on students and faculty in their classrooms on his daily rounds and was granted admittance to the library** on cold days to stay out of the rough weather for extended periods of time.
Before long, he was adopted by the university community. He traveled to home and away athletic events and it was at one of these contests that he earned his name.
Gus "Pig" Dittmar was the center for the 1914 football team. His nickname derived from his ability to slide through the defensive line "like a greased pig." During a game in 1914, Dittmar and the puppy stood next to each other on the sideline.
Students in the crowd noticed both companions were bowlegged and thus the dog was dubbed "Pig" after his sideline buddy. He adopted the surname of his owner and was thenceforth known as Pig Bellmont.
For nine years, Pig roamed the Forty Acres and was soon known as the "Varsity Mascot." After a few years of regular attendance, he was officially made a University of Texas Letterman.
The traditional letterman's jacket wouldn't work for Pig, so a shiny brass "T" was custom-made and attached to his collar to honor his achievement.
As filmmaker John Ford once said, "When the legend becomes fact, print the legend."
With Ford in mind, legend has it that Pig would snarl at the mere mention of Texas A&M.
Pig's close supervision of UT proceedings did not end with athletics. During World War I, he monitored the cadets of the School of Military Aeronautics, which was known as the "West Point of the Air" at the time.
The program was the forerunner of the Air Force Academy and gave cadets a six-week introductory course in flying. As each class graduated, Pig posed with the cadets for a photo. Twice he rode the train north to Dallas with cadets as they continued to the next phase of training.
But, as all good dogs must, Pig eventually ascended to Heaven.
Tragedy struck on New Year's Day 1923 in the form of a Model T. The car hit Pig at the corner of 24th and Guadalupe streets. He was injured, but survived. However, no one knew the true severity of his injuries at the time.
Pig passed away a few days later.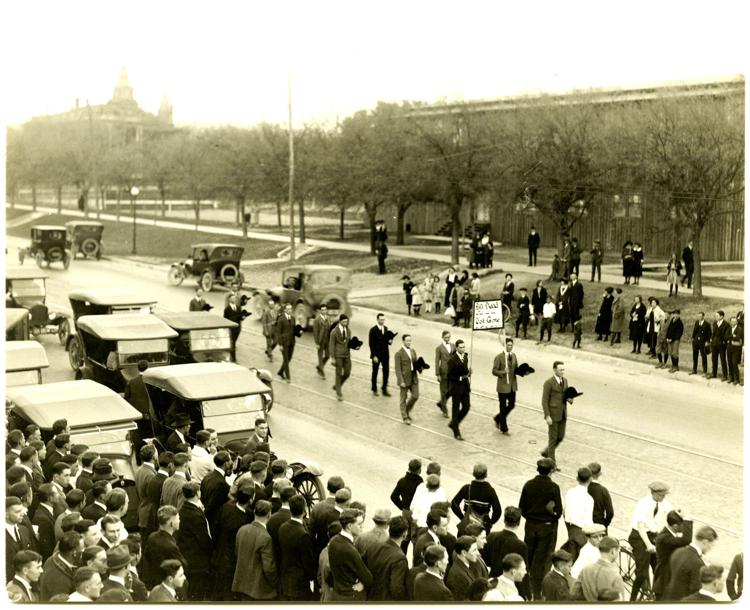 His death was a painful blow to a campus community that was much smaller and more closely knit than today's sprawling metropolis of more than 50,000 students.
Pig received a tribute befitting a statesman. On Friday, Jan. 5, Pig's body lay in state in front of the University Co-op on Guadalupe Street for two hours. More than 1,000 mourners filed past his small black casket adorned with orange and white ribbon.
At exactly 5 p.m., a funeral procession began. The Varsity Band led attendees south on Guadalupe to 21st Street and then east to the Old Law Building, the site of today's Graduate School of Business.
Pig's pallbearers were four young men from a newly formed group called the Texas Cowboys. They were dressed in dark suits. They carried this casket between them, their hats dangling from their other hands.
The procession stopped under a cluster of three live oak trees*** northwest of the Law Building. This would be Pig's final resting place.
Dean Thomas Taylor, founder of the School of Engineering, delivered the faithful dog's eulogy. He began somberly, and profoundly.
"Let no spirit of levity dominate this occasion," he said. "A landmark has passed away."
Taylor continued: "I do not know if there is a haven of rest to which good dogs go, but I know Pig will take his place by the side of the great dogs of the earth."
As Taylor's speech ended, a lone trumpeter played Taps in front of the Old Main Building.
After the funeral of UT's first and most loyal mascot, someone left a marker at the gravesite. The epitaph read four words:
"Pig's Dead … Dog Gone."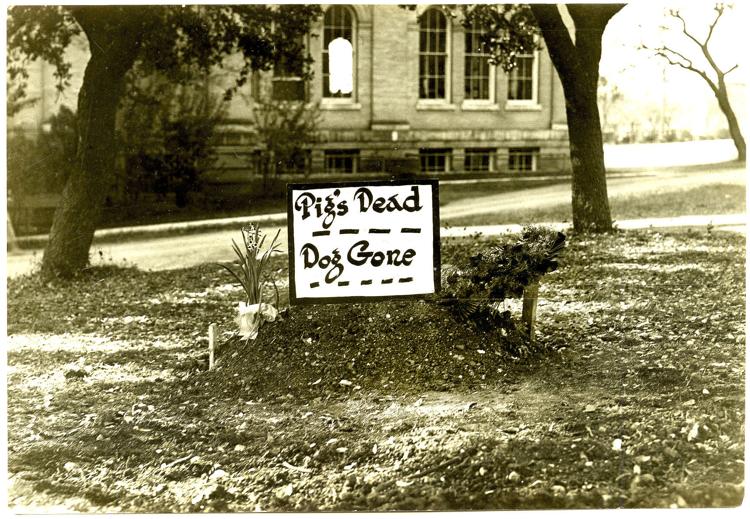 ———
*Bellmont Hall, named for L. Theo Bellmont, is essentially the west side of Memorial Stadium.
**The old library is now Battle Hall.
***Pig's burial site under the three oak trees is still visible today northwest of the Graduate School of Business.