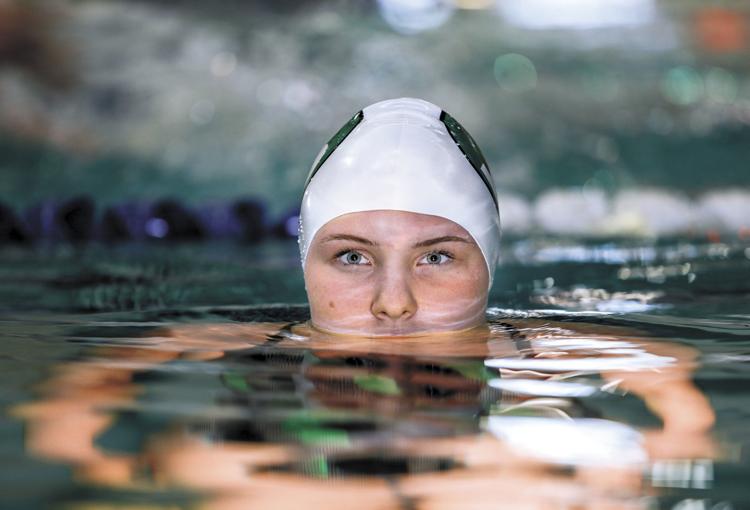 Positioned high above the indoor pool at the Blue Bell Aquatic Center, Brenham High School's swimming record board is vast, peppered with swimmers past and present and virtually impossible to miss.
Especially for an 8-year-old Shayle Woods.
"When I was little and I started club swimming, I knew I'd transfer to Brenham's school district (from Burton ISD) so I could swim," Woods said. "I remember telling my parents that I wanted to break every single one of those records on that board."
Nine years later, the 17-year-old Brenham junior has flourished on the Cubette swim team. She's the owner of three spots on that coveted record board and is now set to compete in her second straight Class 5A state competition when the UIL Swimming and Diving meet begins today.
And from time to time, she still catches herself gazing up at Brenham's best.
"In practice, sometimes you'll see me looking at the board every once in a while," Woods admitted. "If we're going through a hard set I'll look up there and say 'I want to break that record. I can replace my own time with something better. I can get the record above it or below it.'"
Woods will get her chance as Brenham's lone representative when the 5A preliminary round begins at 10 a.m. today at the Lee and Joe Jamail Texas Swimming Center at the University of Texas in Austin. For the second straight year Woods will compete in the 500 freestyle, a race she holds the school's top time in after breaking her own record with a time of 5 minutes, 14.41 seconds at the Region 5 meet Feb. 1.
Woods is also in possession of the Cubettes' top times in both the 200 freestyle (1:58.27) and the 400 freestyle relay (along with teammates Sarah Kirby, Madison Coskey and Abby Clayton).
"In a way, it's like a dream come true to me because my name is on that board," Woods added ."It's an accomplishment of mine and a dream I've worked really, really hard to achieve."
Next up is an opportunity to best herself on the biggest stage of the prep swimming season.
Woods landed in fifth place at the Region 5 meet, succeeding her sixth-place finish from 2019 while improving her state seeding from 18th overall a season ago to 14th this weekend.
Woods was unable to qualify for the finals in 2019 and went home prematurely, admitting that immediately after lifting herself out of the pool, her heart sank.
She went on to say the trials of a long season had taken their toll, suggesting the end result served as a bit of a wake-up call.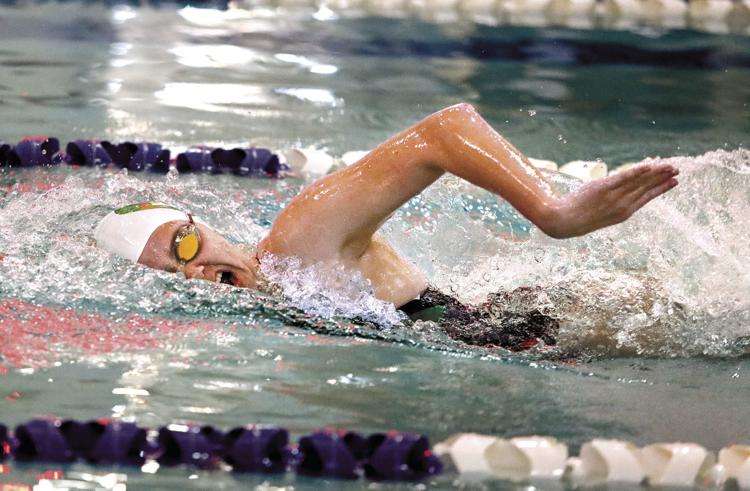 "When it came to state, it was kind of like 'Once this is over with, I won't have so much to do,'" Woods recalled of her mindset during her first state appearance. "You're talking about practices at 6 a.m. to 7:30 a.m. Then school. Then more practice from 4 p.m. to 5:30. And weight training on top of that. I was mentally exhausted and physically drained. I was kind of just out of it, and I think that affected how I swam.
"But I still wasn't happy with my results. I remember crying afterward because I knew I didn't swim well. I wasn't OK with how things went and it didn't feel good at all."
Now one year older, Woods is relishing in the hard work required to get over the hump and elevate herself to her desired destination.
"Swimming is probably the most physically demanding sport there is and you have to have a lot of discipline," she said. "There are practices where I'm not going as fast as I need to and those are some of my most frustrating days. But you have to keep going. All practice is better than no practice, and you have to have a lot of discipline and a lot of drive.
"It's tiring. It's exhausting. You don't want to do all of those grueling sets in practice. But in order to get to state and where you want to be, you have to have that discipline. And I learned that the hard way."
Woods is in good shape to erase the bitter memories of 2019, as she's seeded inside the top 16 going into today. The top 16 swimmers (out of 24) from the prelims will advance to Saturday's 9:30 a.m. final, and Woods is hopeful she can cross off two items on her state checklist.
"I want to make the finals — there's no denying that," she said. "But my main goal is making my best time.
"Sometimes certain things just aren't in the cards and you have to understand where you are and what you're capable of and what you're able to achieve. I'm prepared to go out there and swim for a 5:10 or better."
Woods is staying focused inside of her humility, as she understands the challenge that awaits her this weekend. Pflugervile Weiss junior and Notre Dame commit Ana Herceg leads the 500 field with a sparkling time 4:56.47, and is one of eight competitors entering state with a mark just under Woods' target of 5:10.
"This is the best of the best," she said. "I'm going in there to compete against them, but I'm also going to compete against myself.
"You have to prepare yourself both mentally and physically. You have to get your mind right. You cannot be negative before your race. You have to tune everything out and focus on your race. That's what I'm going to do."
Keep track of Woods' performance and all of the results of the state meet at UILTexas.org.